Supernova Remnants Dance in the LMC

The Gemini South Multi-Object Spectograph (GMOS) recently captured a dramatic image of a vast cloud complex named DEM L316 located in the Large Magellanic Cloud. The peanut-shaped nebula appears to be a single object, but the latest research indicates that it is really comprised of two distinct gas and dust clouds formed by different types of supernova explosions.

The new image reveals the intricate tendrils of gas and dust located in the remnants of the stellar explosions that created the still-expanding cloud complex. The object was first recognized in the early 1970s as a supernova remnant, a type of object that is enriched with elements created in stellar explosions. The nebula was likely created a few tens of thousands of years ago by more than one type of supernova exploding in this region of the Large Magellanic Cloud.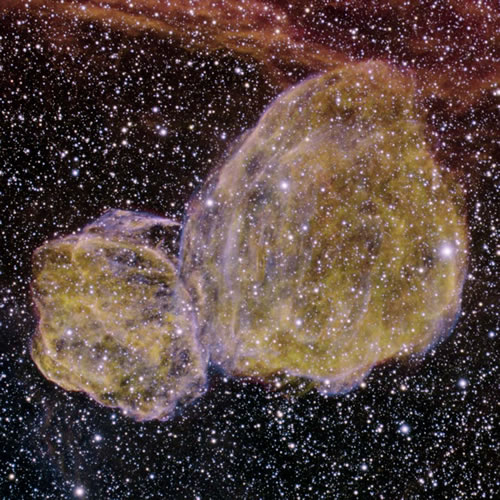 DEM L316 – click for 1000×1000 image
Additional information:
here
Labels: supernovae
Links to this post: